Upgrade your wallet experience with the new Super Savers feature. Now you can open a bank account instantly from your eWallet so you can keep aside your balance. Simplify your life Spend, save & manage your money all in 1 place
Open a Current Account-i from your eWallet
Save & grow your balance with monthly interest
Shariah Compliant
PIDM Protected
Easy access to your savings anytime
Easy to transfer between wallet & bank account
No commitments. Withdraw anytime
RM50,000 combined limit (wallet + bank account)
Upgrade Your Wallet Experience
Wallet limit
Earn interest
Cash out to banks
RM10,000 or RM20,000* T&C apply
X
X
RM50,000 Wallet + bank account
0.75% per annum Profits credited monthly
/
Grow Your Balance With Monthly Interest
How to earn interest
Cash in to your Hybrid Wallet
Interest is calculated based on your balance Eg. RM3,000 x 0.75% / 365
You can view your earnings in your monthly e-Statement in the app
How to cash out?
Transfer the amount to your MM wallet
Transfer to your local bank account
or Withdraw from any ATM
How to view my balance?
Cash in to your Hybrid Wallet
Interest is calculated based on your balance Eg. RM3,000 x 0.75% / 365
You can view your earnings in your monthly e-Statement in the app
Get Merchantrade Money Today!
Hassle-free payments & insurance coverage for continuous protection including COVID-19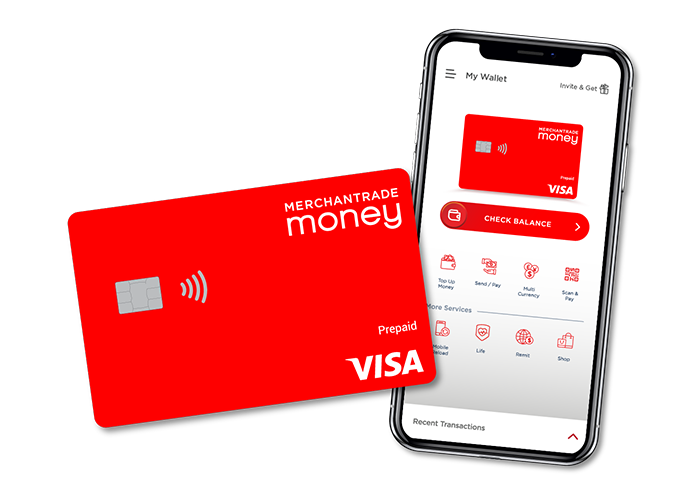 Merchantrade Money
Is an e-wallet which comes with a VISA prepaid card.
You can:
Store money
Make cashless payments online/retail
Withdraw cash
Top-up mobile credits
Send money overseas
Pay bills and utilities
Talk to a doctor
Find Out More
Visit the nearest Merchantrade Asia branch
Bring your original passport, visa or work permit
Top-up a minimum of RM100 into your card and receive your card immediately
Got Questions?
Read our FAQ page to learn more about this